"Gesalzene 1300°C"
Unlike in West Germany many traditional potteries survived in the former GDR. But after the reunion of West and East Germany the highly sought-after ceramic products are no longer appreciated in the East and the traditional techniques are likely to disappear.

Christel Kiesel works together with her assistant Eberhard in her 150-years old family business. It is one of the very few remaining potteries from the former 26 in Crinitz, a pottery village in the Niederlausitz, that still produces traditional salt glazed plant pots, storage pots, feeding troughs and bowls, flower boxes and fermentation vessels.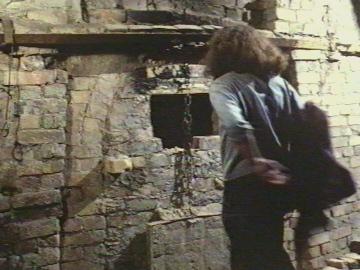 The cassel-type kiln has cooled down one week after the firing and is ready to be cracked open now. The pots are protected by the bagwall from the most intense flames. Only types of pots which are insensitive to the extreme heat stress can be placed upon the bagwall. Especially in the front of the kiln a thick layer of glaze has been formed by sand and flyash. Highly-grogged clay-wads, called "Putzeln", protect pots and the bagwall-bricks from sticking together.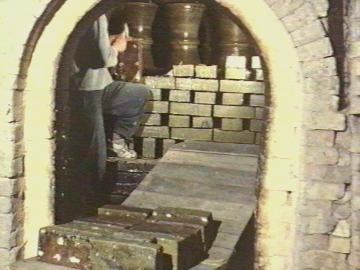 The bagwall bricks which are replaced every firing are very sought-after for buildings because of their heavy glazing and high density.

After some years even the kilns vault is covered with a thick layer of glaze, which melts in every firing and sometimes drops onto the pots.

Each of the two kilns has a packing space of 15 cu.meter (20 cu.yards) and the shape of a halfcut lying pear with a vertex of 1.8 meters (6 feet). It doesn't make sense to fill this space with teacups, thus Christel prefers to produce big pots. It takes more then a day to unpack the kiln, clean and store away the pots.

The square courtyard is surrounded by barns, the residential building and the workshop building.

The area for clay preparation and the kiln are ground floor, the area for throwing and drying pots above. Stoneware has been produced here by the Kiesel family since 1837. Christel now leads the pottery in the fith generation. She took over the family business in 1981 to prevent it from nationalization.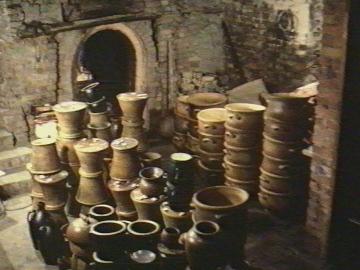 Christel:"In the GDR we had to wholesale the total production to the state. Nearly nothing was sold directly to customers. Production targets have been fixed by the county council. A failure in meeting these targets could meant the risk of loosing the licence or being cut down from the supply of materials. Having no contact to the customer and no feedback was often a great frustration."
---